[ez-toc]
Influencer marketing has become an essential strategy for brands looking to connect with their target audience in a more authentic way. As we step into 2021, it's crucial to stay updated on the latest trends and statistics in this field. To help you stay ahead of the game, we have compiled a comprehensive infographic featuring 10 influencer marketing stats for 2021.
From the rise of micro-influencers to the increasing importance of video content, these stats shed light on the evolving landscape of influencer marketing. So, get ready to unlock valuable insights and unleash the power of influencer marketing in the year ahead.
Influencer marketing takes the tried and tested idea of celebrity endorsement and places it in the context of digital marketing. Individuals with a significant following on social media due to a consistent flow of relevant, domain-specific content have thousands or even millions of followers, and by forging partnerships with them, brands gain the potential to reach a broader audience. Influencers are fast becoming a marketing mainstay and it's not hard to see why.

– LSi Media
As social media trends come and go, social media influencers have seemed to always find a way to adapt. Marketers have not lost sight of the high potential for growth that these partnerships can offer. Today, 89% of marketers say they believe influencer marketing to be effective.
If you are considering or have plans to launch an influencer campaign in 2021, SocialPubli has put together a nice visual of important stats you should know. Check out the infographic below to learn more about the 2021 landscape of influencer marketing.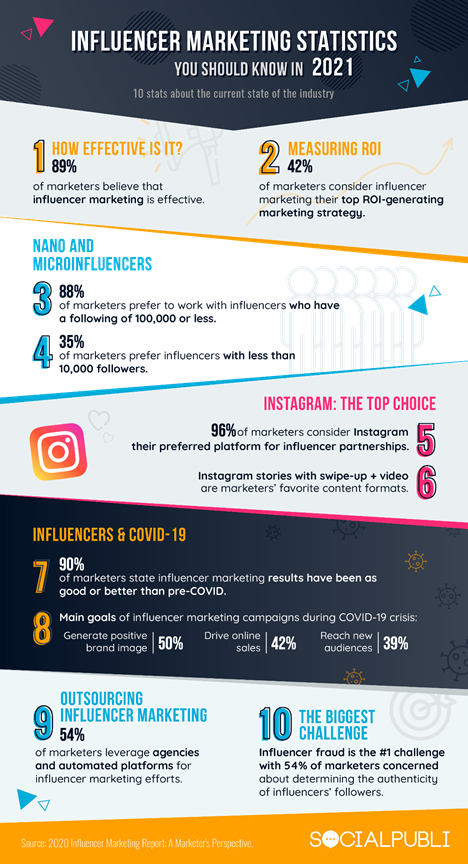 In Conclusion
These influencer marketing stats for 2021 highlight the growing importance and effectiveness of influencer marketing in the digital landscape. With the rise of social media platforms and the increasing number of users engaging with influencers, brands have recognized the potential of collaborating with these individuals to reach their target audience.
The stats demonstrate that influencer marketing is a powerful tool for driving brand awareness, increasing engagement, and driving conversions. It is clear that consumers trust the recommendations and endorsements of influencers, often considering them more authentic and reliable than traditional advertising methods.
In addition, the data emphasizes the significance of micro-influencers, as they tend to have strong connections with their audience and generate higher engagement rates. As brands continue to leverage influencer marketing strategies, it will be essential to track these statistics and adapt strategies accordingly to stay ahead of the competition and maximize the benefits of influencer partnerships.
FAQs:
1. What is influencer marketing?
Influencer marketing is a type of marketing strategy that focuses on using influential individuals to promote a brand or product. These individuals, known as influencers, have a large following and a significant impact on their audience's purchasing decisions.
2. Why is influencer marketing important?
Influencer marketing is important because it allows brands to reach their target audience in a more authentic and engaging way. It helps build brand awareness, increase trust, and drive conversions. With the rise of social media, influencer marketing has become a key strategy for many businesses.
3. How effective is influencer marketing?
Influencer marketing can be highly effective when done right. According to studies, 89% of marketers believe that influencer marketing ROI is comparable to or better than other marketing channels. Additionally, 63% of consumers trust influencers' opinions about products/services more than what brands say about themselves.
4. How do you measure the success of influencer marketing campaigns?
The success of influencer marketing campaigns can be measured through various metrics, such as engagement rate, reach, impressions, click-through rate, and conversions. These measurements help determine the effectiveness of the campaign and its impact on the target audience.
5. What are the benefits of using influencers in marketing?
Using influencers in marketing offers several benefits, including increased brand visibility, enhanced credibility, improved brand awareness, access to new audiences, and higher conversion rates. Influencers can effectively communicate a brand's message and help build trust with their followers.
6. What types of influencers are there?
There are several types of influencers, including macro-influencers, micro-influencers, and nano-influencers. Macro-influencers have a large following (typically over 100,000), micro-influencers have a smaller but highly engaged following (between 10,000 and 100,000), and nano-influencers have a smaller yet niche and dedicated following (under 10,000).
7. How can businesses find the right influencers?
Businesses can find the right influencers by conducting thorough research, identifying their target audience, and looking for influencers who align with their brand values and goals. They can also utilize influencer marketing platforms and agencies to connect with relevant influencers in their industry.