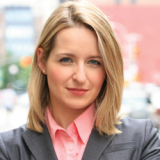 Marketing & PR Content Manager
Gretchen Barton is our resident content specialist, generating compelling material for our clients which delights, inspires and engages. She is a published writer and researcher and loves to transform challenging concepts into easily accessible, dynamic material.
She is the lead writer for the National Association of Sales Professionals as well as Growth-U and is a frequent contributor to CareerBuilder.com. Her specialty is marketing and brand development, finding each client's unique story and finding ways to communicate that message effectively through anything and everything from e-zines to PR blasts, site content to internal reports.
She has a background in community organizing and campaign strategy, and was the lead strategist behind Cornell University's anti-hazing campaign. She is delighted to be a part of the LSi-Media team.